 | | | |
| --- | --- | --- |
| | | |
A feature film by: Jakrawal Nilthamrong (MAN AND GRAVITY)
Produced by: Pimpaka Towira
Supported by: Numthong Gallery and the Hubert Bals Fund
An Extra Virgin production, commissioned by the International Film Festival Rotterdam and co-produced by Vilole Images Productions
70 minutes, Digibeta, Color
In Nyanja, English and Thai with English subtitles
Synopsis:
Deep in the middle of an African forest, Tamaya, a shaman who can connect to the dark side, is paddling on a canoe across a big river, heading towards an unknown land. His body is covered in white powder – the one used in holy rites. At the shore, Lunggeaw, a 60-year-old man is waiting for him. They head towards a small village where Lunggeaw's son is lying sick from a mysterious illness.
Tamaya promises the old man to find a way to cure his son. He covers the white magic powder on the sick boy's body, and takes him into the woods.
A ritual is performed in the middle of the forest to evoke the powerful spirits. But Tamaya finds out his is not able to cure the boy from the fatal illness. He tells Lunggeaw the boy has death awaiting him, but that the spirits in the woods reveals that the boy's soul belongs to a great waterfall, and so they need to transport him there so his spirit could return to see his father again in a different form.
The above is a story within a documentary-style film which shows Zambian independent filmmakers working hard to finish a film under severe limitations in terms of filmmaking resources as well as their own cinematic expertise. They have to make this film from the story written by Thai filmmakers – a process set up by Dutch project initiators, looking to discover new cinematic gems from Africa.
Through the process of the film-making, the ancient folklores and Zambian filmmakers' struggles are taking the viewers on a journey, tracing back to the historical roots connecting Africa and Asia in a never-before imagined way.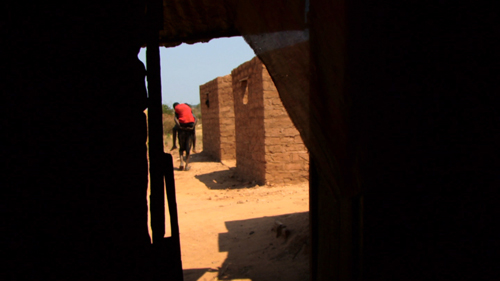 "The village was just 20 minutes drive out of Lusaka, the capital of Zambia, but it felt we went to another world and another time. The time people lived without electricity and running water in handmade mud houses. But that is Africa. The middle ages are just around the corner. Jakrawal Nilthamrong needed a traditional village for his fiction film Unreal Forest and he did not have to go far."
Read IFFR's Gertjan Zuilhof's account of the shooting in Zambia here:
Forget Africa 31: Directors on Directors
Forget Africa 32: A Day in a Village